What is bitcoin halving and what does it do?
halving is an automated process to halve the bitcoins that miners receive as a reward for creating a block. It was created to incentivize mining through a proof of work . By doing this for every certain number of blocks the issuance should be halved.
The first cryptocurrency to implement this process was bitcoin. All this because the amount of bitcoins that can be born is finite and is established in the bitcoin software file at 21 million bitcoins. Not one more. Bitcoin's software states that bitcoins are released to reward miners as they build blocks by validating transactions, at an average frequency of every 10 minutes.
However, the number of bitcoins that are released is not always the same: it is determined by the software that, for a certain amount of blocks, the number of bitcoins is halved. This automated process is called halving and is used to establish a certain time until the end of coin issuance in order to pursue a deflationary model, said in other words, that its value gradually increases.
Limitation of issuance
Halving is a mechanism created so that cryptocurrencies like bitcoin are not distributed immediately. To achieve this, this scaling mechanism was devised to control the issuance.
This issuance causes new cryptocurrencies to be in circulation. This is a predictable process of initial democratization for currency distribution, which gives the possibility to prevent all the money from ending up in a few hands. Satoshi Nakamoto, who devised the mechanism in Bitcoin, said the following:
Constantly adding a fixed amount of new coins is analogous to gold miners spending resources to add gold to circulation. In our case, what is spent is CPU time and electricity.
In this way, if we look at the evolution of Bitcoin to date, we see that the amount of bitcoins in circulation is 86.554%. We must keep in mind that, with the first 210,000 blocks, 50% of bitcoins in circulation has been reached.
During this period, 2,625,000 BTC will be added, which will mean reaching 18,375,000 BTC, consequently reaching 87.5% of BTC in circulation.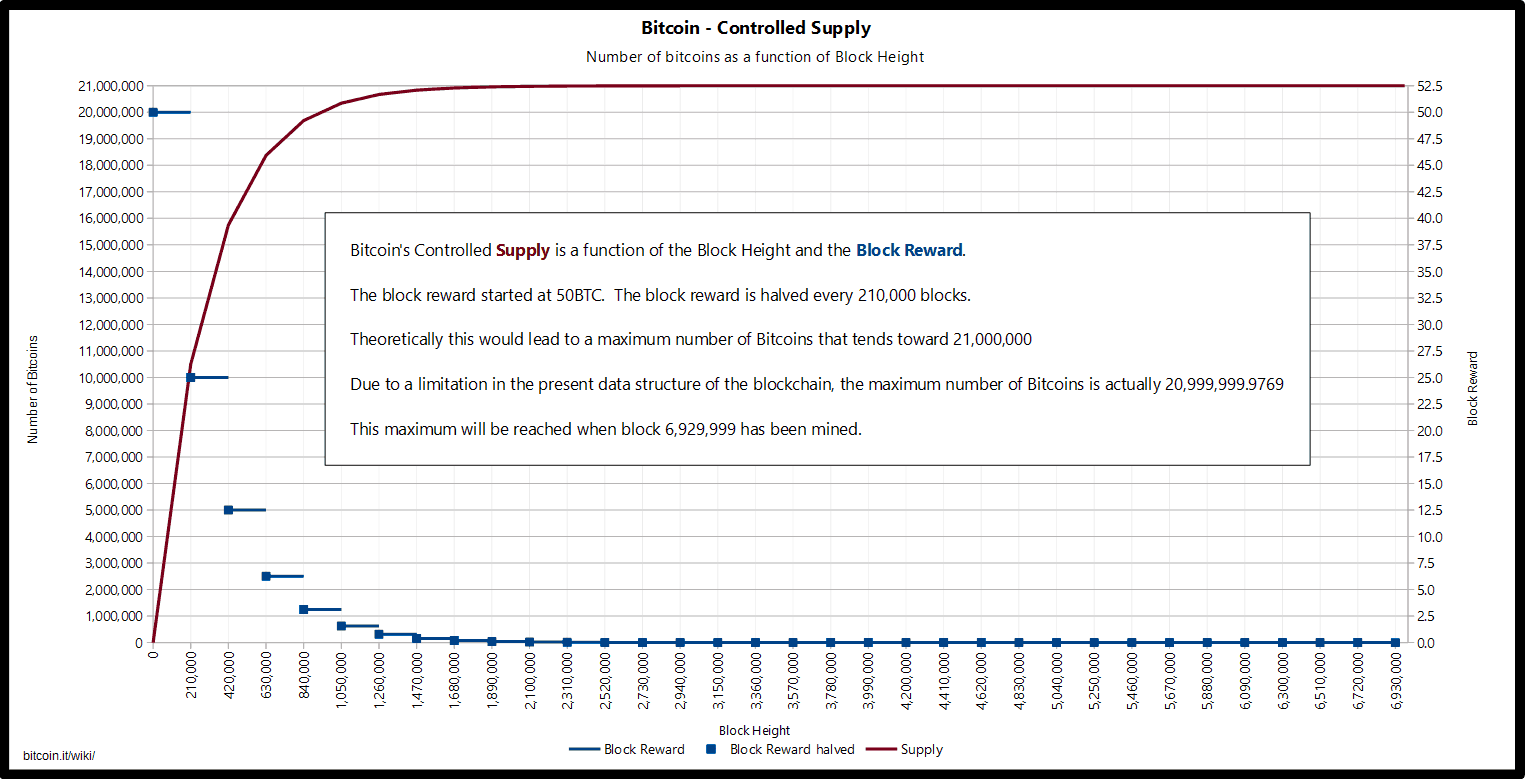 What would have happened on bitcoin without halving?
This is a rather interesting question. If there had been no halving, bitcoins would have all been mined a long time ago. Because of this, miners would have only received transaction fees as compensation. Commissions, at almost no cost, since bitcoin would not have had time to upgrade and "revalue" itself to the point where it could profit from mining.
It would be a few years before all bitcoins were put into circulation. Initially, 50 BTC per block was distributed, which means 300 bitcoins per hour or 7200 bitcoins per day. Each year, an amount of 2,628,000 bitcoins would be released, which, when divided by the total number of possible bitcoins (which is 21,000,000 bitcoins), implies that it would take XNUMX years to put all bitcoins into circulation.
Projection of added bitcoins in the short term
In the following table, we can see the percentage of bitcoins in circulation compared to the total and the date when that figure was reached. We can also see how many bitcoins a period opens and closes with, as well as the amount added.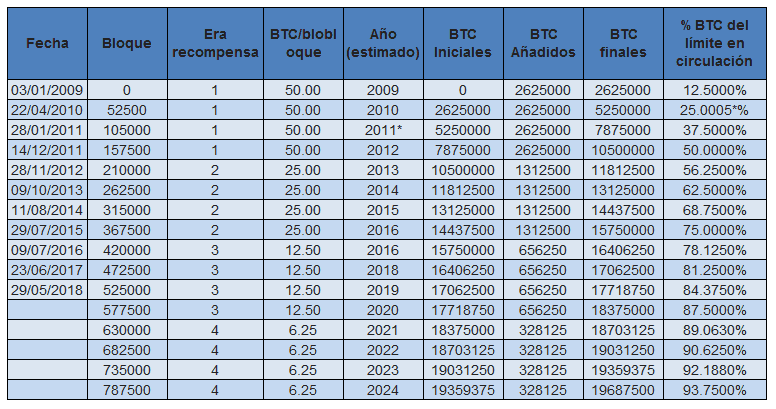 All halving
You do the calculations of all halving and know how many bitcoins will be allocated for each block from its inception until the last of them is mined. We are currently in the third halving phase of the thirty-four phases that will exist.
The last halving will establish a zero reward, meaning that miners will only be paid commissions for transactions made. This will happen in the 6,930,000 block, which is calculated to happen in the year 2140, so that's a long way off.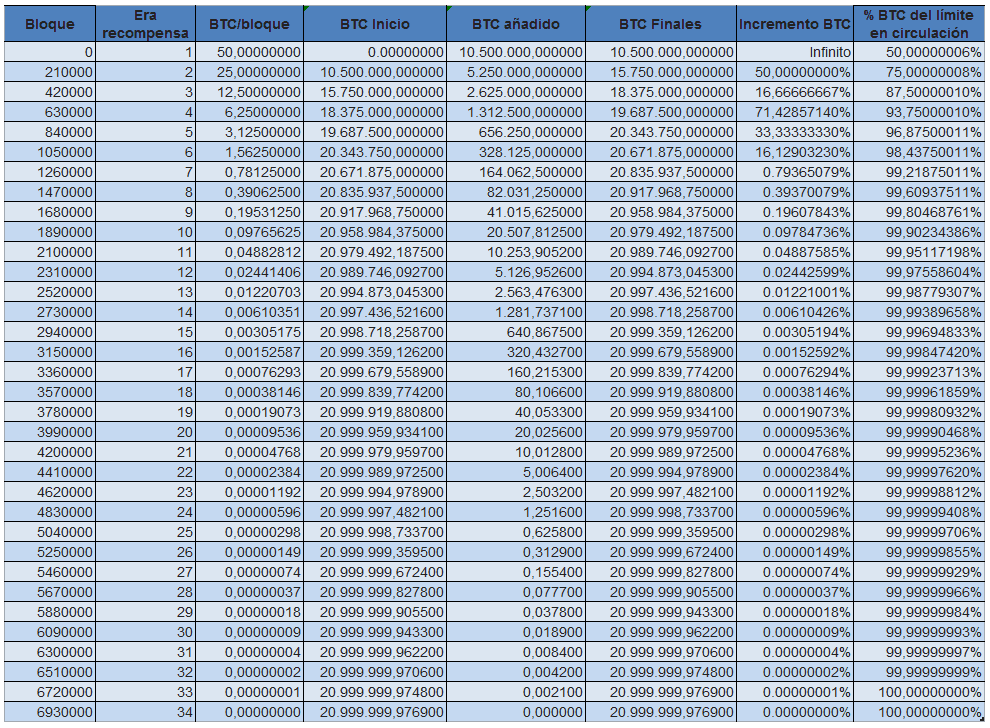 As can be inferred, in the sixth halving the reward per block will be less than 0.8 BTC. Currently each block is paid with 12.5 BTC (about €80,000); therefore, some think that in 2032 it is possible that a single bitcoin is worth at least €100,000.
No one, we repeat, no one can assure you that Bitcoin will reach this price but if you are interested in investing in Bitcoin it is as simple as having a part of the 21 million that will exist; and you don't need to buy a whole one. You can buy as many as you want: if the price of bitcoin doubles, your share will also double. If you want to do it in Bit2Me you can do it easily, quickly and safely.
What does bitcoin halving involve?
Halving will happen automatically, as stated in the code. So there won't be a network shutdown or anything like that – everything will continue as before. Except that, starting from that moment, for each mined block, half of BTC will be released to the world.
Consequences for a normal user
For anyone who uses Bitcoin on a daily basis, there will be no consequences whatsoever when he makes transactions or sends money around the world. He will be able to continue using his wallet normally and as he has done so far.
Consequences for a bitcoin miner
Miners are more important players in this case. In a few days we will see if the same computing power is maintained by network mining or if a part of the miners will stop mining because of the high cost and small reward (counting that the price of a bitcoin does not go up in price)
Considering that every 10 minutes they will receive 50% less bitcoin, the search for more efficient miners might increase. It also opens up a wide and exciting range of possibilities for all companies in the industry.
Consequences for speculators
For speculators, a halving could be the perfect time to start increasing the price of bitcoin since the new reward will make bitcoin increasingly scarce. As the issuance of currency is reduced, demand will outstrip supply and the price of BTC will increase accordingly. In short, it will be like "fishing in the murk" and those who know how to untangle these circumstances will be able to make big gains.
How often does halving occur?
Approximately every 4 years.
Approximately? Calculating halving is complex because it is impossible to predict how long it will take to mine a block. Of course, software can calculate the average time and based on that time constantly adjust the complexity.
An adjustment of the mining complexity is made every 2016 blocks. This is done so that the time between each mined block is approximately 10 minutes.
To simplify our explanation, we have established that blocks are always generated every 10 minutes. While this is not always the case, it is usually very similar. We therefore stipulate that six blocks are generated per hour. Seventy-five bitcoins are added to the network (based on the reward at the time of this writing, 12.5 bitcoins per block) which are put into circulation. Miners can decide, when they want to sell them, to put these new bitcoins on the market.
To accomplish the calculation of the halving process we will perform a simplified calculation with integers. This is so that the process and timing can be better understood. We need to multiply the 210,000 blocks by 10 minutes (interval in which the blocks are generated). Then divide it by 60 minutes (1 hour = 60 minutes).
Each halving occurs approximately every 35,000 hours, which equals 1,458 days, or 4 years.